PARENT TEACHER CONFERENCES WILL BE ON MONDAY, SEPT. 26 FROM 7:30-3:30. THERE WILL BE NO SCHOOL FOR STUDENTS ON MONDAY, SEPT. 26.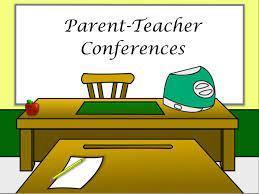 Nightly internet shutoff times affecting only school-issued, student devices. Please refer to the FAQ document for additional information.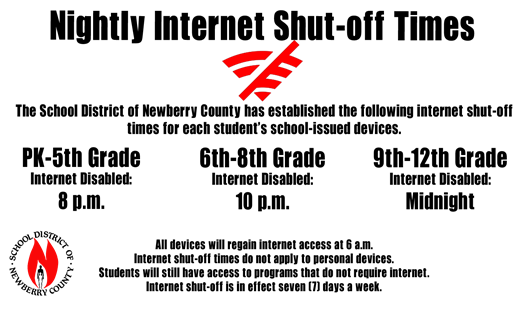 The School District of Newberry County is committed to ensuring the safety of its students, staff, and spectators at athletic events.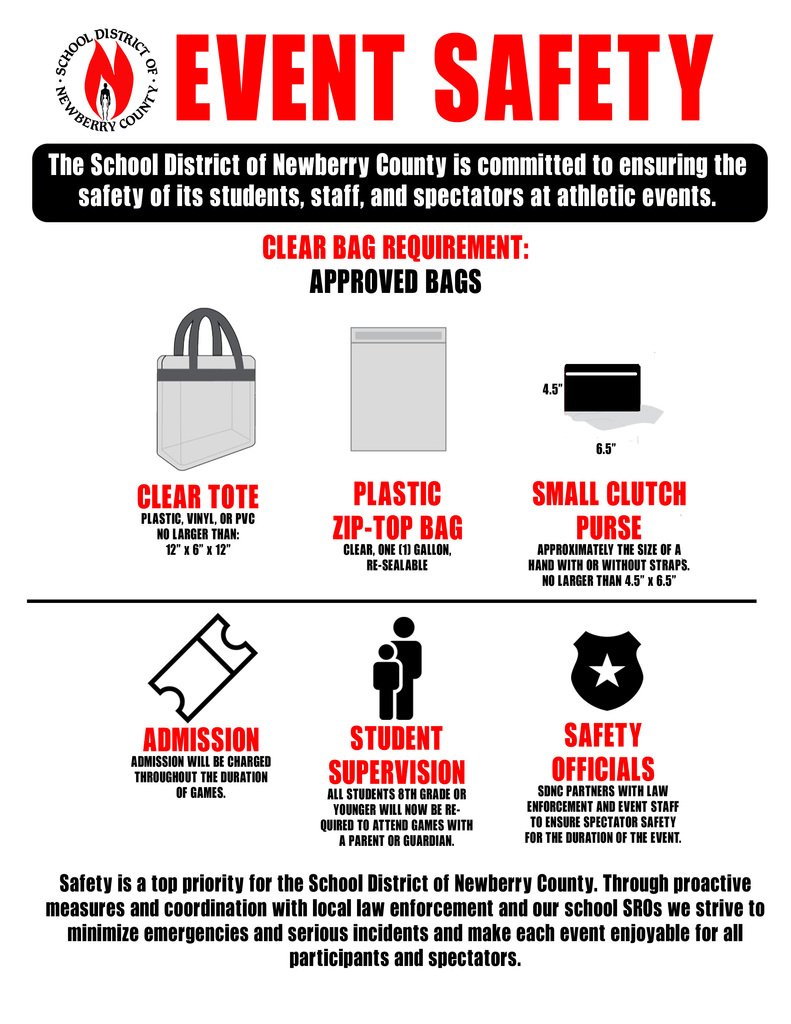 We would like to remind all rising 9th grade students that MCHS will host a Freshman Orientation and 9th grade early student registration on Monday, August 1st. The purpose of Freshman Orientation is to help our incoming Freshman class acclimate to their new school culture and allow for positive transition regarding change in existing school environments. Freshman Orientation will also allow Freshman Parents to participate in Early Registration on August 1. On August 1st, rising 9th grade students are asked to arrive by last name. Freshman orientation times for rising 9th grade students with last names beginning with A-F will be from 8:00 am – 9:00 am, last names beginning with G-M will be from 9:00 am – 10:00 am, and last names beginning with N-Z will be from 11:00 am - 12:00 pm. This event will be held in the MCHS Cafeteria. Students and parents are asked to enter through the student parking lot entrance on August 1.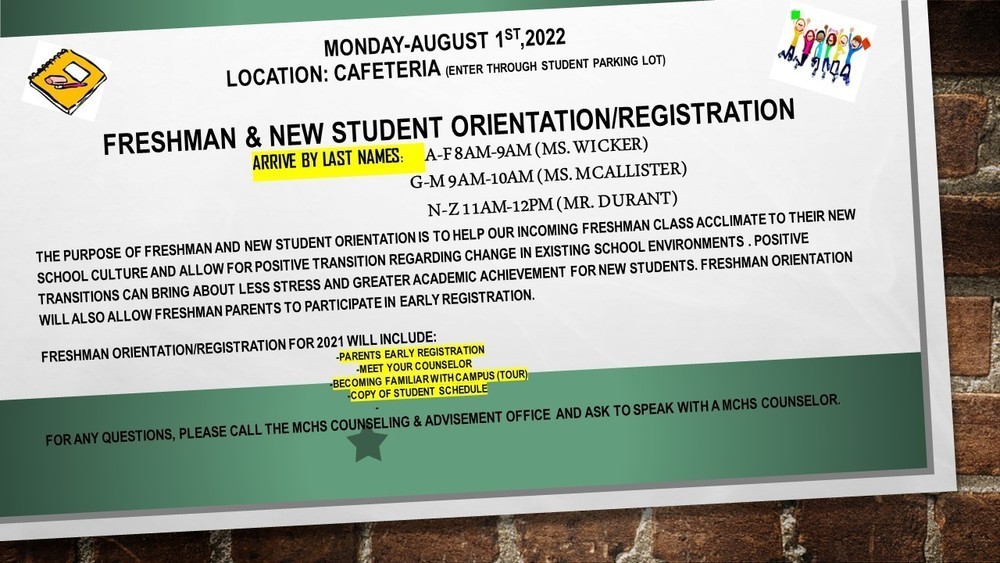 Seniors- be sure to return your laptop and charger to the library on whichever day is your last day of school. The library is open from 8:00-3:00 daily. You MUST turn in your laptop and charger to avoid being charged for them! Contact Ms. Felker with any questions.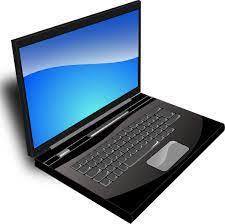 2022 Laptop/Charger/Bag Return Information *Seniors will return their laptop/charger/bag to the library upon completion of their last class or last exam at MCHS. The library will accept these items between 8:00-3:00 daily. The last day to turn in these items for seniors will be Thursday, May 26. After May 26, seniors will be invoiced for these items. *9th-11th graders will turn in laptops/chargers/bags to their 4th block teachers after their final exam. If they are exempting, they must still turn in their laptop/charger/bag to their 4th block teacher. Anyone without a 4th block class may turn in their tech items to the library between the hours of 8:00-3:00. ALL TECH MUST BE TURNED IN BY THE END OF THE SCHOOL DAY ON JUNE 1 TO AVOID BEING INVOICED FOR THE COST OF THE LAPTOP/CHARGER/BAG. If you have any questions, e-mail Ms. Felker at
jfelker@newberry.k12.sc.us
SENIOR CLASS NIGHT, a special program for graduates, their immediate family, and grandparents, will be held on MAY 18, 2022 - 6:00 P.M. in the gym.

The School District of Newberry County graduation dates and times: Mid-Carolina High School: Wednesday, June 1 at 8:30 a.m. Whitmire Community School: Wednesday, June 1 at 7 p.m. Newberry High School: Thursday, June 2 at 8:30 a.m. Contact your child's school for more information.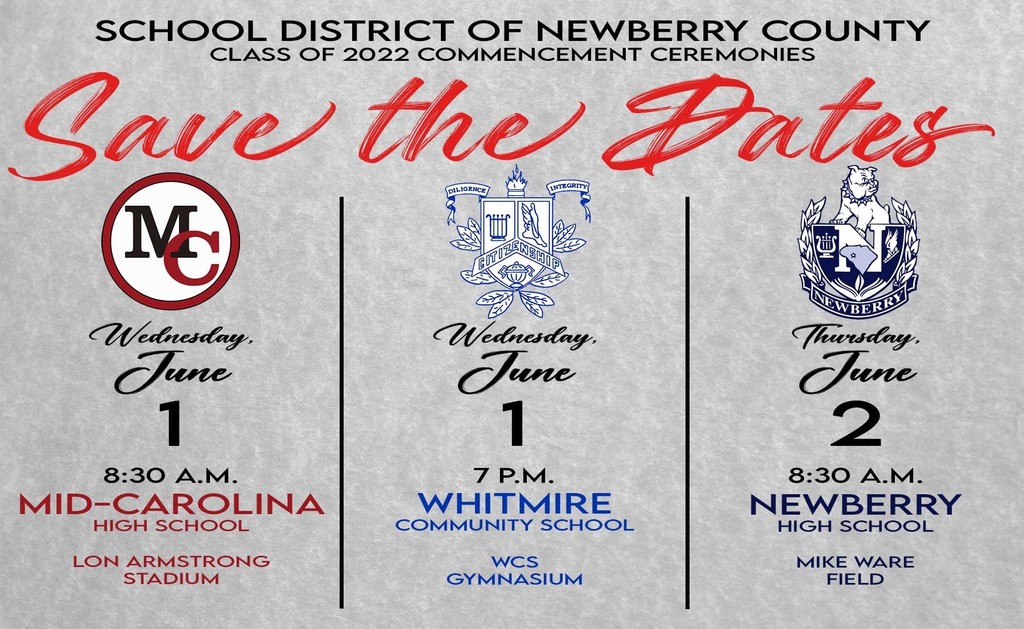 ACT Testing For ALL 3rd Year (11th Grade) MCHS Students – March 22, 2022 To: All Parents of 3rd year High School Students, All 3rd year (11th Grade) students at MCHS who did not sign up to take the SAT will take the ACT at no cost on March 22. The test will be administered during the school day. If your student is taking the ACT, it will be given on Tuesday, March 22, 2022. Testing will begin promptly at 8:00 am. Please make sure your child gets adequate sleep, has a good breakfast, and arrives promptly on testing day to ensure a successful testing experience. Rosters and testing locations will be posted around the building on March 22 to inform students of their testing location. If your child normally reports to the Newberry County Career Center or Piedmont Tech on that morning, he or she will report to the high school for testing on March 22. If you have any questions regarding testing, please contact your child's counselor at 803-364-2134. (Ms. Wicker, Last Names beginning with A-F, Ms. McAllister, Last names beginning with G-M, and Mr. Durant, Last Names beginning with N-Z.

SAT School Date: Wednesday, March 23rd, 2022: Students in 11th grade who opted to take the SAT (Scholastic Aptitude Test) as their state assessment should arrive to MCHS between 7:35am-7:45am. They will report to the library media center. SAT proctors will begin testing at 8am. Testing should conclude by 12:30pm. There will be NO make-up testing.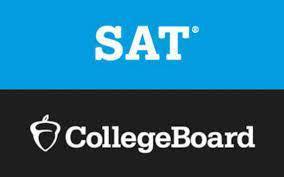 UPDATED COVID GUIDELINES AND UPDATES (2-8-22) The School District of Newberry County has updated its isolation and quarantine procedures. These updates can be found at the link below. The update includes a Test to Stay Option. This allows for students who are identified as a close contact to remain in school. The requirements to do so include wearing a mask at school for 10 days and testing on day 5. Students who are currently quarantined and may return to school under this option will be contacted today by the school. The change in our procedures goes into effect immediately. Link to the form for MCHS:
https://forms.gle/wZiDuHvCYMGL
... Guidelines as of 2-8-22:
https://5il.co/15et8

In light of the potential for inclement weather on Friday, Jan. 21, the lunch pick-up on Thursday, Jan. 20 will include both Thursday and Friday's meals.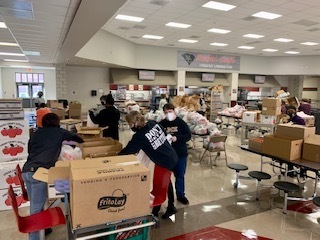 PARENTS, Any household without Internet access needs to contact their assigned guidance counselor so that alternative arrangements can be made to collect assignments. *Sarah Wicker (
swicker@newberry.k12.sc.us
) serves students with last names beginning with A-F. *Gwen McAllister (
gmcallister@newberry.k12.sc.us
) serves students with last names beginning with G-M. *Kindred Durant (
kdurant@newberry.k12.sc.us
) serves students with last names beginning with N-Z. You may either email your student's assigned counselor or call the school at 803-364-2134.

Parents and Students, The School District of Newberry County is currently experiencing a high number of students and staff impacted by Covid-19. As a result, all schools will shift from in-person instruction to eLearning virtual instruction from Tuesday, January 18 through Friday, January 21. There will be no school-related extracurricular or after school activities from January 18- January 21. Teachers who are not isolated or quarantined will use Google Meet to teach remotely and provide synchronous (live) instruction. The links for Google Meet, assignments, and class schedules will be listed on the teacher's page in Schoology. Breakfast and lunch for January 18-21 can be picked up at Newberry Middle School, Mid-Carolina High School, or Whitmire Community School between the hours of 10:30 am – 1:00 pm each day. Students are expected to log in daily and participate at the scheduled start time for all classes via Schoology. A Google Meet link will be posted along with an access code for each of your classes in Schoology. Students will adhere to the following bell schedule during virtual learning days: MCHS Virtual Learning Bell Schedule 1st Block - 7:55 AM- 9:25 AM 2nd Block - 9:30 AM - 11:00 AM Connections/Tutoring Time - 11:00 AM - 11:30 AM Lunch - 11:30 AM - 12:00 PM 3rd Block - 12:00 PM- 1:30 PM 4th Block - 1:35 PM - 3:05 PM *Please e-mail your teacher(s) if you have any questions or concerns. If there are any technical problems, please contact Jessica Felker at
jfelker@newberry.k12.sc.us
.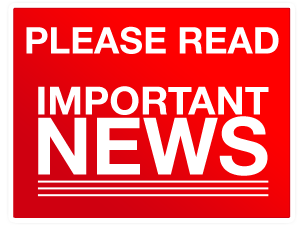 As we get ready to return next week, please be reminded that the COVID-19 reporting links can be found at
https://bit.ly/NCSDLinks
. If you have tested positive, been identified as a close contact or household contact, or have any COVID-19 symptoms, please complete the link to inform your school nurse.

Internet and phones are back up.

Phone lines and internet are currently down at MCHS.
In response to the social media challenge encouraging students to vandalize and destroy school property, the School District of Newberry County wants to remind students and parents that participating in such a challenge will result in disciplinary action. Suspension, restitution of damages, and/or criminal charges may occur. Please be advised that all incidents will be investigated, and students will be punished if they participate or encourage others to vandalize our schools. We appreciate your assistance in helping to maintain a safe environment for all our students and staff and your continued support of our school district.
Rhodes Graduation Services (Jostens) will hold a senior class meeting on Wednesday, September 8 in the MCHS cafeteria to inform students of ordering senior supplies. Only Senior students will be allowed to attend this meeting and those in attendance will be required to social distance. The senior class meeting will begin at 9:00 a.m. Seniors will be able to place their orders online at
www.rhodesgraduation.com
. The deadline to order graduation supplies will be Wednesday, September 15. Rhodes Graduation will return on Tuesday, September 22, from 11 a.m. – 1 p.m. to deliver early celebration items.