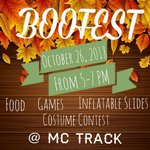 Boofest Flyer
Related Files: Boo_Fest_Sponsor_Form.pdf
MCHS Student Council will be sponsoring a Halloween Carnival, "BooFest" , on October 26, 2018.
See attached flyer for more information.
If you or anyone you know has a small business and would be interested in setting up a booth at our carnival, please see the attachment and return the required form.