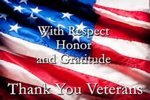 USA Flag
Related Files: Veterans_Day_Invitation_Letter_2018.pdf
Mid-Carolina High School will celebrate Veteran's Day on Monday, November 12.
If you or any of your family members from the community have served in the armed forces (Active, Reserve or National Guard), we would be honored to acknowledge your/their service at our Veterans Day Celebration. Please complete the attached form and return it to the attention of MAJ James Taylor at Mid-Carolina High School by Thursday, November 8, 2018.
The ceremony will be held in the gymnasium. Breakfast will be served for all participating veterans in the cafeteria from 8:15 a.m. – 8:45 a.m. Our assembly will begin promptly at 9:00 a.m.