Carnival Day in Ms. Frick's Probability and Statistics Class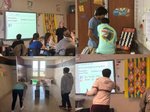 Ms. Fricks Class
Carnival day consist of 1 1/2 days of "games" Students must play the 7 different games and by the end should be able to figure the expected value.
Day 1 students get to play the games with groups for 5 minutes and must write a letter to Count Quarter explaining why they think the games have the outcomes they do. Then they get one chance at each game to see if they can win or not
Day 2 for 30 minutes students go around with "$10" to see who can win the most money. If they have learned expected value correctly they will have a pretty constant gain in money flow.