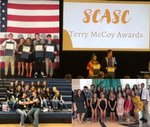 Student Council Members
MCHS Student Council attended the 71st SCASC conference at Chapin High School, March 29th and 30th. While there students attended workshops, listened to inspirational speakers, and submitted projects that our council has implemented throughout the year. Schools are allowed to submit up to 3 chosen projects and a scrapbook to be judged. This year MCHS placed in all categories submitted and was recognized for the following awards:

1st Place in 1A-3A Fundraising Project
1st Place in 1A-3A Video Project
2nd Place in 1A-3A Scrapbook Project
3rd Place in 1A-3A Community Service

Along with these awards, Will Murray was inducted to the Terry McCoy Hall of Fame and Ella DeNicola was voted as the District 6 Vice Chair.