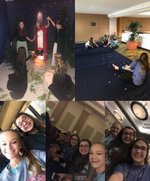 Beta Club Students at Beta Convention
The MCHS Senior Beta Club attended the annual Beta Club Convention in Myrtle Beach Friday, February 8 and Saturday, February 9. Students (and sponsors) had a great time on the Grand Strand reconnecting with the purpose and mission of The Beta Club organization and interacting with other Beta Club students from around the state. The following were recognized at the Convention:
Individual Competitions:
Visual Arts, Division I (Recyclable Art) — Ashlyn Kinard, 1st place
Best in Show, Visual Arts — Ashlyn Kinard, 1st place
Visual Arts, Division I (Painting) — Bailey Gause, 2nd place
Speech, Division I —Tyler Schackelford, 2nd place
Social Studies, Division II (11th grade)—Drew Bunce, 2nd place
Group Competitions:
Service Learning Showcase, 1st place — Emma Wicker, Ashlyn Kinard, Emily Davis, Erica Davis, and Josie Blanchard
Club awards:
National Beta School of Merit
All students worked very hard to prepare for these competitions.

MCHS Beta Club Sponsors,
Taci Allen
Phyllis Chebbi
Kindred Durant
Nicole Frick
Tabitha Harmon
Tyler Hook