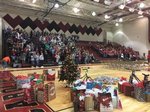 Items Donated for Season of Sharing
The Season of Sharing program is a tradition for the student body at Mid-Carolina. This year's Season of Sharing program took place on Friday, December 7. Our students presented over 450 nonperishable can goods to the Pomaria Food Bank. Also, thanks to the generosity of our students, faculty/staff, and community members we were able to serve 58 families and give over 190 gifts with our Angel Tree program.
On behalf of Student Council, we would like to announce the winners of the can food drive. In first place, with the most overall cans brought in per class, was the Piedmont group with 68 cans. However, we would also like to thank everyone who brought in cans to donate to the Pomaria Food Bank; when we donate to those in need, we are all winners.