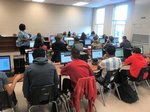 Students Virtual Job Shadowing
November is National Career Development month!
Therefore, during the month of November, students at Mid-Carolina High School will participate in career exploration through the use of Virtual Job Shadowing.
Students in grades 9th - 12th will learn to maneuver through the virtual job shadow website https://www.virtualjobshadow.com/ as well as take career assessments that will allow them to utilize the results to explore career choices and make informed decisions regarding colleges that offer specified majors.