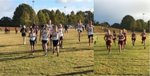 Cross Country Team Participants
The MC Cross Country Boys placed 16th at Upper State Competition on Saturday, October 27th. They had 4 personal records on a challenging course.
Alex Garcia 20:32
Lee Fulmer 20:39 PR
Michael O'Neil 21:12 Season PR
Adam Meetze 22:06 PR
Sam Worley 22:29
Eugene Bragg 22:44 PR
TC Shepard 25:31
The MC Cross Country Girls placed 12th and just barely missed qualifying for state. We also had three PRs on a very challenging course.
Caroline Matney 24:16 PR
Maddie Huffstetler 24:36
Haley Thomason 25:05 PR
Meredith Koon 25:07
Hannah Stockman 25:54 PR
Cassi Murphy 26:16
Emily Davis 27:18