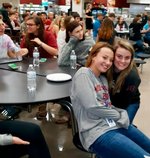 Students That Participated
On Friday, October 5, 133 total students participated in a Summer Reading Celebration in the MCHS cafeteria. Students enjoyed fresh-baked cookies and bottled water while participating in a Kahoot trivia game based on Young Adult Fiction novels.
The winners of the Kahoot contest and door prize winners enjoyed receiving their choice of READ cups and a READ bag OR a READ cup and a food coupon bundle from our local Sonic.
Thanks to Mr. Cooper for providing refreshments and to Sonic of Newberry for the food coupon donations!!!